A BIG THANK YOU
to everyone who came out to our auctions
both in person and online!
We hope you enjoyed it
and found some treasures!

This auction will consist of the greatest pile of parts of all kinds, collected and saved by Kim over more than a few decades.
There are a large number of restored and unrestored jukeboxes, including some very early models that rarely come to market.
Make your plans now to join us Labor Day Weekend!
Auction Location Day 1 - Friday, September 3
1011 Bass Road
Macon GA. 31210
Auction Location Day 2 - Saturday, September 4

8964 Thomaston Road
Macon, GA. 31220
• Friday Preview and Auction
• Saturday - The most amazing collection of jukeboxes, speakers, etc. offered in many years!
Stay tuned for the long list.
NOTE: Saturday's auction will be utilizing LiveAuctioneers –
If you would like to bid online you must register and be approved prior to the auction.
Visit
Liveauctioneers.com to register and be approved prior to the auction.
View some of the fine items we'll be offering to you:

SPECIAL NOTE - We have discovered a group of Cushmans lost in time from a pick that was all but forgotten until we picked them up!




A NOTE FROM PRESTON –

Dear Friends,

The past eighteen months have been difficult ones in so many ways. We have lost family members and dear friends, and my heart goes out to all who have been so severely affected by the pandemic. One loss that has been especially difficult for me is that of my long-time friend, Kim Hammergren. I am honored to have been asked by Kim's wife, Peggy, and children to help liquidate Kim's collections.



We will be conducting an auction Labor Day Weekend, September 3 and 4, 2021.
We will celebrate Kim's life and give others a chance to own some of the things that he enjoyed so much.

We have a huge overflow of items, and we are planning to work from two locations in order to sell it all.

This first auction referred to as Auction #1 will be held on Friday at 1011 Bass Road, Macon, GA.


It will contain most of the parts and jukeboxes that can be restored or used for parts. Of course, many other items of interest will be sold Friday as well.



The preview for Friday's auction will begin at 8:00 AM, and the auction will begin at 10:30 AM.




Our plans for Auction #2 that will be held on Saturday in Macon, GA location to be announced as auction gets closer. We will open the doors at 7:30 AM for a preview of Saturday's sale., and the auction will begin at 11:15 AM. A large selection of choice jukeboxes, catalin radios, various coin-ops, Coke machines, advertising items, neon signs, motorcycles, etc. will be sold. Also included is a Panoram.


We are busy working on our brochure. As usual, we will have seating options for those who desire better seating opportunities.

We will have a big tent set up for the Friday Auction, and our Saturday Auction will be inside and will offer comfortable seating


and other accommodations along with a sitting area for your comfort.


Fee Schedule

No admission cost for Auction #1 – Friday only auction

$10.00 Admission for Saturday, no perks

$25.00 Brochure & Admission to Both Friday & Saturday Sales

$50.00 Brochure, Admission to Both Auctions, Seating, Coupon for lunch, Applies to purchases

$100.00 Brochure, Admission to Both Auctions, Best Seating, Coupons for two meals, Applies to purchases

A registration form is enclosed for your convenience. All attendees must register.

Please return registration form and brochure request to:


Karen Braswell, 110 Clarksville Ct., Macon, GA 31210.



We are also in debt to Scott Skillman and Brandon Beall who have helped us all along the way.


Hope to see you on September 3 & 4, Friday and Saturday, Labor Day Weekend, 2021.
REMEMBER – PRESTON OPPORTUNITIES AUCTION – "Where Rare is Common!"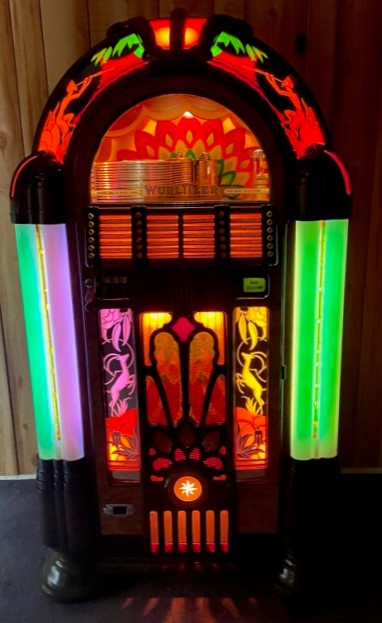 Wurlitzer 950

The Wurlitzer model 950 is arguably one of the most desirable jukeboxes of all time. Designed by Paul Fuller during the material shortage of WWII, he truly made the best of a bad situation. Utilizing carved walnut and decorative glass as alternative manufacturing materials, the finished design is stunning. Because of the war, only 3400 were ever made, making it beautiful AND rare. This is probably the only Model 950 I've ever seen with the original glass pilasters on the front containing the bubble tubes as well as the original etched glass gazelles on the front cabinet door. All the original hand carved walnut and carpathian elm burl of the exterior is in excellent condition. This is the best of the best.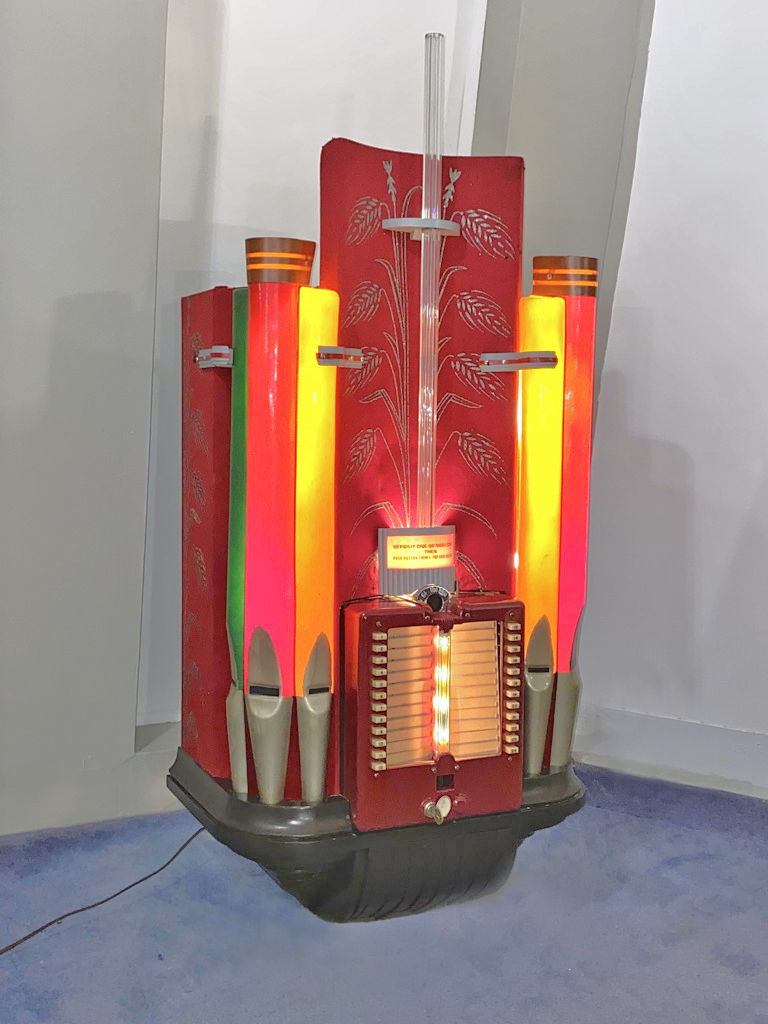 430 Speaker
Designed by the renown Wurlitzer jukebox designer, Paul Fuller as a companion piece to the Wurlitzer 950 Gazelle jukebox. Wurlitzer only produced about 280 of them in 1942. Due to the war time materials shortage, it was designed around what could be produced with available material supplies. It has the original grill in red cloth with silver glittered wheat sheaves embossed on the cloth. The original organ pipes are in formed plastic with poplar wood carved pipe bases. The central fluted glass tube conveys the light from the selector box straight up.

It has the 1942 metal 24 selection coin-op selector box illuminated inside. Original wall hanging brackets are affixed to the back. The lower portion of the unit is carved walnut with carved walnut pull out cash drawer. Additional trim is carved poplar. Size is approximately 47" x 23" x 15"
We specialize in Juke Boxes, Automata, Toys, Antiques, Advertising Specialties, Signs and Neon,
Magic items and Memorabilia, Music Boxes, and other unique items from days gone by.