A BIG THANK YOU to everyone who came out to the Auction on Labor Day Weekend!
Your items can be picked up at 8964 Thomaston Road, Macon, GA 31220

A Connoisseur's Dream!
Labor Day Weekend 2022
The fun will begin on

Saturday, September 3rd

with a preview
and registration @ 9 AM

• Day 2 will be Sunday, September 4th with a preview

beginning at 8AM and auction starting at 9AM
Auction held at

8964 Thomaston Road
Macon, GA 31220
Presented by
Karen Braswell - Auction Coordinator
(478) 461-4931 (678) 296-3326


10% buyer's premium will apply to all items both days.
Follow us on Facebook @ PrestonEvansOpportunities
Address any questions to:
kdbraswell01@yahoo.com
Travel to our auction is easy - we are located in Macon GA.
You can fly to ATL airport and conveniently take a Groome Transportation shuttle to Macon.
We will even pick you up at Groome and deliver you to the auction just a few miles away.
Hotels and our best restaurants are within one mile from Groome -
they are located at 4540 Sheraton Drive, Macon, GA 31210.
Call them at (478) 471-1616.

We are rushing to show you all the items you have not yet seen!
We just got many items in, and we are catching up on our postings.
You will never again find so many rare items in one place.


Our listings are on
Live Auctioneers and our brochure should be ready in early August.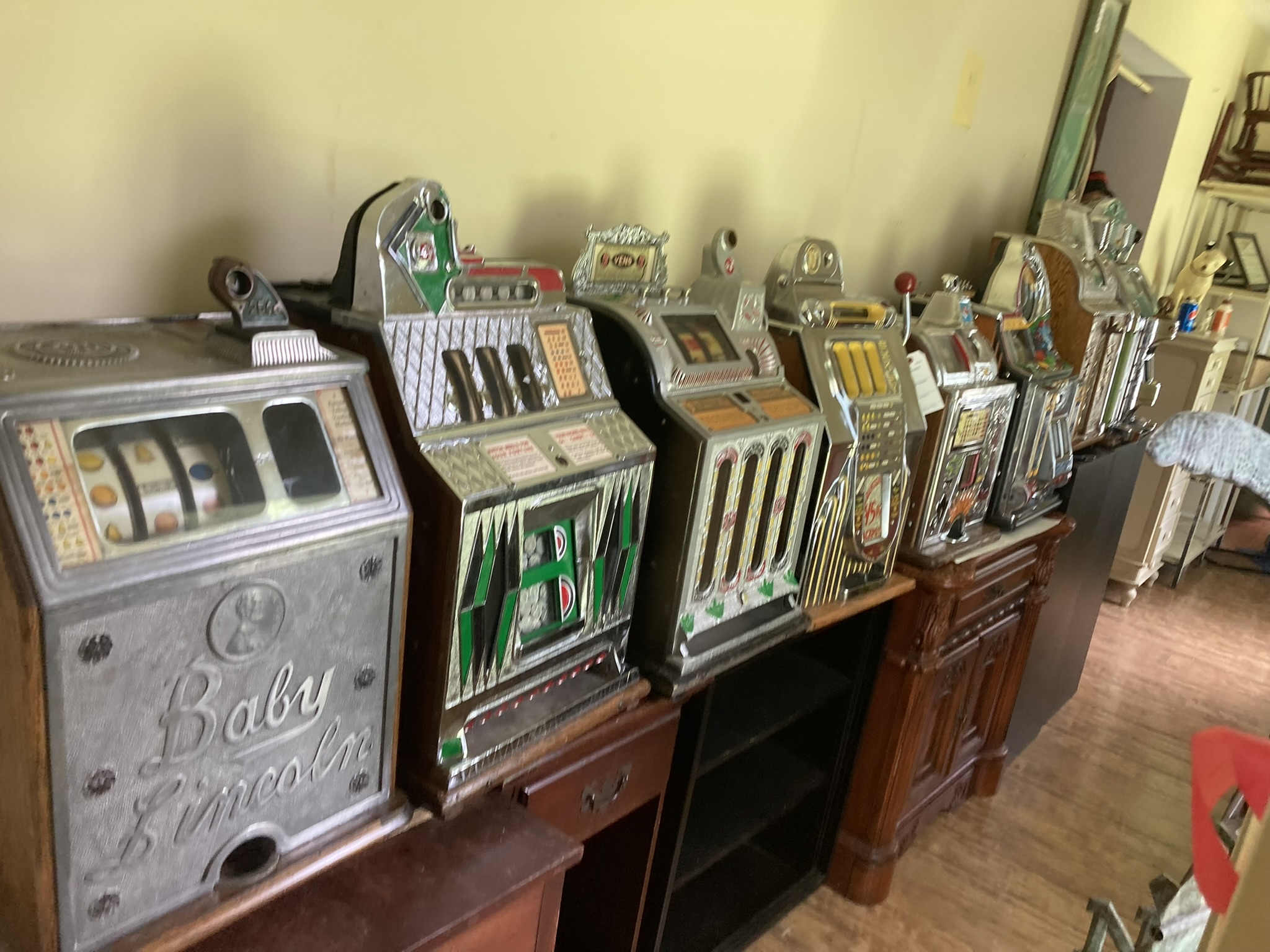 WE ARE FORTUNATE ENOUGH TO HAVE THE ULTIMATE OFFERING OF ARCADE MACHINES

AND THE BEST SELECTION OF JUKEBOXES IN THE WORLD!
Anyone who has ever wanted any coin ops should be here.
Serious collectors cannot miss Saturday's offerings. These are pieces that you will never find elsewhere.

Those who seek perfection will want to be at Saturday's auction.
Preston was selected by his friend 30 years ago to be entrusted with this fine collection upon the passing of him or his wife.

His dear wife passed recently, and he kept his word to his wife by selling this collection directly to Preston.

The heartfelt gratitude that Preston felt when his friend came forth with the promise cannot be expressed.

A collection of this caliber could have only originated from an avid collector. The owner acquired the collection over four decades one by one resulting

in one of the most superb collections in the country. These beautiful and elegant machines speak for themselves.
Now is the chance to acquire a wonderful collection of coveted and rare machines that you will seldom see for sale.
$25.00 per person for registration and admission (nonrefundable);

$25.00 per person includes a brochure and admission to the auction.

The $50.00 option includes registration and a seat if available on a first come/first served basis;

or $100 per person includes a brochure and a reserved seat $100 options apply to purchase,

up to two people per bidder number, nontransferable.

As always, seating will be limited - so go ahead and reserve your seat.
Download and fill out the Auction Registration Form
here!
Mail check or money order to:
Preston Evans
110 Clarksville Ct
Macon, GA 31210
See and hear some of our items in action!
– Today's Featured Videos! –

– Previously featured videos –

Sittman and Pt Flip Card trade stimulator

*** OUR LATEST ADDITIONS! ***